All my fellow Marvel fans, ASSEMBLE! Alright, sorry for the dramatic entry, but I just can't help being hyped for Avengers: Infinity War! We're officially in the release week, and well, me being me, i.e. overly cautious and paranoid, this is what it means for my Twitter feed:
I have also disabled my Facebook push notifications and logged out of the app. (Yes, I'm indeed freakishly paranoid)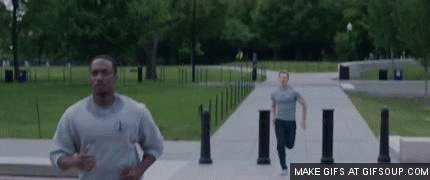 Running away from spoilers like
So it's only apt that I look back and write about the entertaining 3rd Phase through mini-summaries (again, no spoilers), followed with a brief build-up to all things Thanos and Infinity War. (No spoilers for the latter either, of course)
PHASE THREE RECAP
Captain America - Civil War
You know the stakes are high when Phase 3 starts in such an impactful manner. The
y

pit
two super iconic characters we've come to love and root for, against each other: Captain America and Iron Man. This, in turn, divides the entire team and makes the members pick a side, and so does the audience.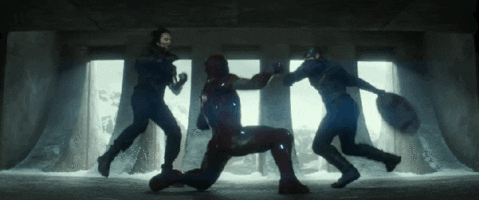 One of the most heartbreaking moments from the trailer
Additionally, the movie features some incredible action sequences an
d
cinematography,
a
nd adds in two new recruits to the franchise via Black Panther and Spider-Man. While many argue that this almost feels like an Avengers 2.5, I like to argue that it still manages to remain, at its very core, a Captain America movie. As things currently stand, I personally rank this as my most favorite MCU movie, for having managed to do so much, without it feeling like too much at ANY point.
Doctor Strange
Enter the much-loved Benedict Cumberbatch, as he takes on the role of the Sorcerer Supreme, Doctor Strange. This movie's main strength is its visual effects, as it was a sheer treat to experience this on the IMAX screen.
The humor in it was good, and so was the final act, which was a refreshing departure from your typical "good guy defeats bad guy" ending.
Guardians of the Galaxy Vol. 2
A very entertaining installment in the series, even though I feel this was probably the weakest link
of P
hase 3. We rejoin our group of lovable misfits in outer space, with certain folks having witnessed quite some growth over the two movies.
It was certainly a fun watch, but it did feel a tad childish and was nowhere near the brilliance of the first Guardians flick.
Spider-Man: Homecoming
One of my favorite entries, this Spider-Man movie finally broke the reboot jinx. Tom Holland convincingly plays both Peter Parker and Spider-Man, and the decision to make him much younger works.
We are also given one of the best MCU-movie villains since Loki, in the form of the Vulture. Some of the action set pieces were breathtakingly good. Usually a weak point in Marvel movies, the background score was really good, which went perfectly well with the character. Plus, RDJ's cameo was more than welcome and never overstayed. Overall an excellent and fresh re-introduction to a superhero we all know and love.
Thor: Ragnarok
The third in Thor's trilogy gets handed to acclaimed director Taika Waititi, who is known for his comedy-filled movies. He takes a drastic turn, making this Thor the funniest, most entertaining one you'll ever see. It was a bold move, and it worked, which is commendable. You also get introduced to some new characters, as well as a run-in with the Incredible Hulk himself.
What I find fascinating about this movie, despite it being a laugh riot, is that there is such an inherent darkness to it. Thor loses almost everyone and everything close to him, one could even argue that Ragnarok is almost a tragedy disguised as a comedy.
Black Panther
It's only fair to say T'Challa is the coolest cat from the whole lot. (Pun intended - and good God, that does sound very corny - Apologies) So much swagger in this flick, such a powerful set of characters, so many inspiring female characters in the form of Shuri and Okoye.
They even manage to sneak in a very valuable message, relevant to our times, in the mid-credits bonus scene. This ended up being one of the most iconic ventures from this Marvel Studios.
Avengers: Infinity War (preview)
10 years of movies all lead to this: the final chapter. Or at least the beginning of the end, as there will be a follow-up Avengers movie, which will serve as a continuation of the events which will unfold in Infinity War.
The best part about Infinity War is that the trailer and promos happen to show JUST what we need to see, enough to leave the fans speculating as to what will happen during the runtime. Who will die? Will Thanos get all the Infinity Stones? What does this mean for the future of the franchise? Where is the Soul Stone?
The Russo brothers even tweeted an image with the hashtag #ThanosDemandsYourSilence, which does make it sound like a lot of dramatic stuff is going to happen here. So yes, I'm personally expecting one hell of a cliffhanger which will make the fans crave for Avengers 4, which comes out in a year from now.
— The Avengers (@Avengers) April 24, 2018
This has been a satisfying journey for the Marvel fans, and we can only hope that Infinity War does justice to the franchise. I'm doing a risky thing, by actually expecting it to be a great piece of cinema. Usually, I like to mentally put myself in a zone, to force myself to have super low expectations before watching big movies, in order to enjoy it more, but not this time. This time, I want to believe this will be good. So it's quite an emotional gamble - but they're worth it.
Congrats on this journey, Marvel Studios! Thank you for the memories, and looking forward to the Post-Phase 3 movies!